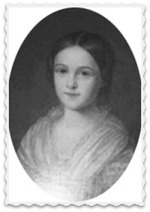 In June 2004 we finally struck luck in our search for the lost British relatives - the descendants of Lotten (in England called Charlotta) Moll, sister of Tom Moll (the founder of our family foundation), Augusta married Neijber, Sophie married Forssner, Victor Moll (former Governor of the Bank of Sweden), and Fritz (whose daughters contributed to our foundation) plus three others who were childless.Charlotta Moll in 1864 married the head of the English Bank in Stockholm, Arthur Crump. We have known for a long time that Charlotta and Arthur (later chief editor of the Financial Times), after having their first child, moved to England, and had seven kids in all. While their children were small the family visited Sweden several summers in the late 1800´s. And Charlottas kid brother Victor visited with the Crumps in England - there are pictures of this encounter.

Signe Neijber, who wrote the booklet about her father Magnus Julius, visited the Crumps in Richmond in 1875 with her parents. She also kept pictures that her grandson Helge von Koch found a few years ago - pictures from Richmond, England depicting a wedding where Augusta Neijber appears among the guests. We assumed this must be the wedding of Charlottas daughter Adelaide to the banker George Norbury.

We have also known that the youngest of the seven little Crumps, Victor, got married and had two boys. So we knew of five grandchildren, among others John Crump and Harold Norbury. But any descendants of these grandchildren were not known to us. In the 50´s Rutger Moll (son of Victor) tried to get in touch with the Crump family while travelling to England. All in vain. In 1960 Bo Tigerschiöld (son of Esther Neijber) with wife Lalla and their two youngest kids Cecilia and Torkel visited London and met with John Crump, his wife and their two children Cilla and Jonathan.